If you've been dreaming up your next DIY project, a console table is a great piece to consider. Plans for these versatile tables are generally pretty beginner-friendly and can be completed in a weekend.
We'll get to all the DIY console table plans in just a second, but first, let's get clear on what a console table is and where it can be used.
What is a Console Table?
A console table is a long, narrow table that's generally between 28-32″ tall. The standard height is 30″. Console tables are a great project to build because they're so versatile.
Where to Put Console Tables
They can be used:
in an entry
behind a sofa
in a hallway
against a wall in a living, dining, or bedroom
to double as a small desk
If you've been wondering what the difference is between a console table and a sofa table, it's all about location. A sofa table is simply a console table that is placed behind a couch. If you move that "sofa table" to an entryway, now it's an entry table!
DIY Console Table Ideas
Now that we're clear on what a console table is, let's talk about building one! Generally, DIY console tables are a pretty beginner-friendly build. Yes, some plans will be more complicated than others, but in general, you'll need just a few tools to complete your project.
Let's dive in. Here are 18 DIY console table ideas (with plans) to spark your imagination! We've categorized them by style so that you can quickly find the plan for you!
Coastal Console Table Plans
The FLUted sofa table
Remember, just because it says "sofa table" doesn't mean you can't put it somewhere else. The "real" version of this Studio McGee-inspired console table was actually featured in a bedroom as a desk on Netflix's Dream Home Makeover.
We made this one slightly less deep than the original, but it still features a large drawer to store some cards, mail, or miscellaneous items. Get the plans here.
Coastal Console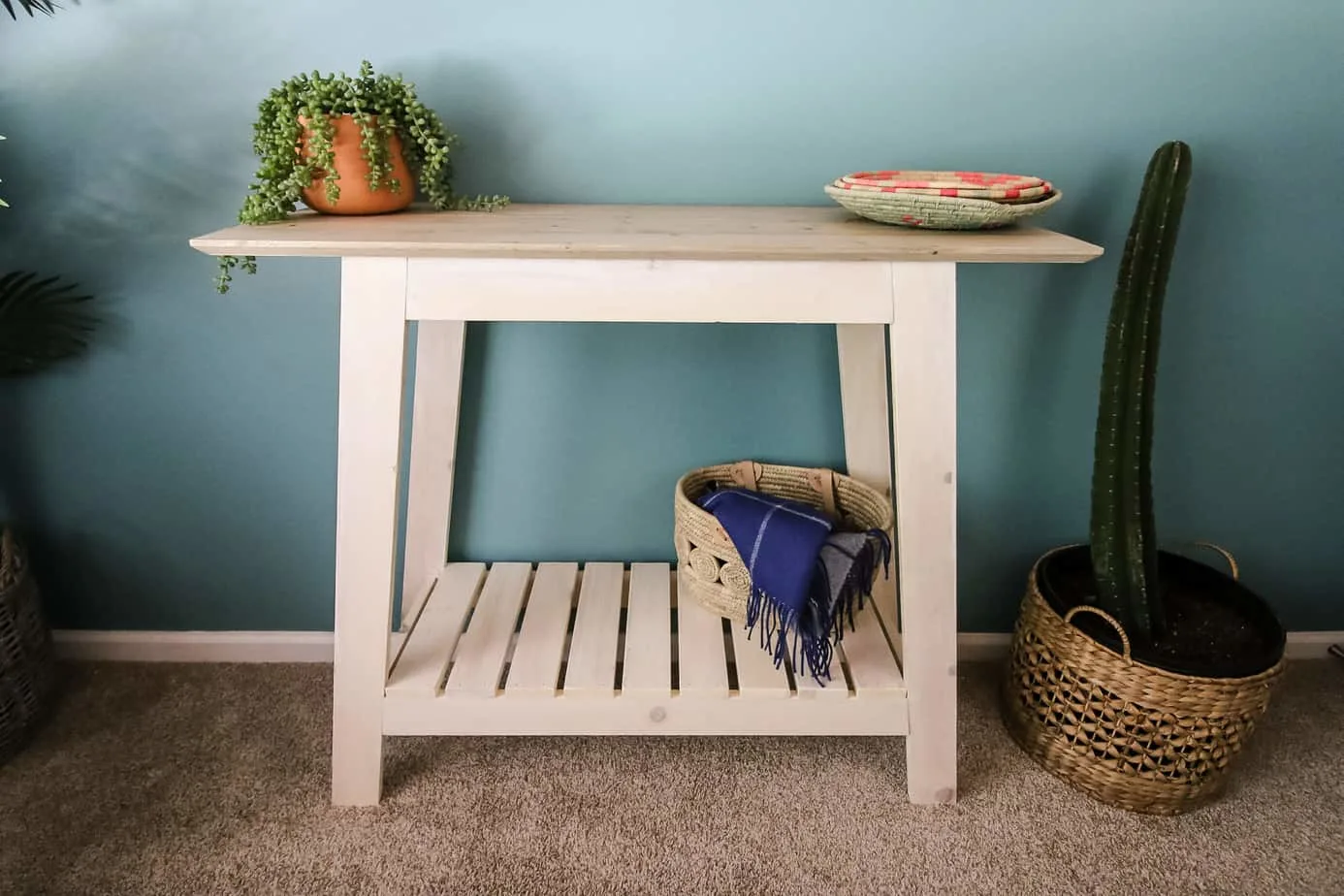 If you love a beachy vibe, you'll love this light wood console by Charleston Crafted. The slatted bottom adds a fun design and doubles as a place to add storage baskets.
Console Table with Drawers
If you're in need of some hidden storage, but don't have a huge space, you'll love this console table with drawers by Abbotts at Home. The area underneath the drawers can store large baskets for more added storage.
Modern Console Table Plans
modern Sideboard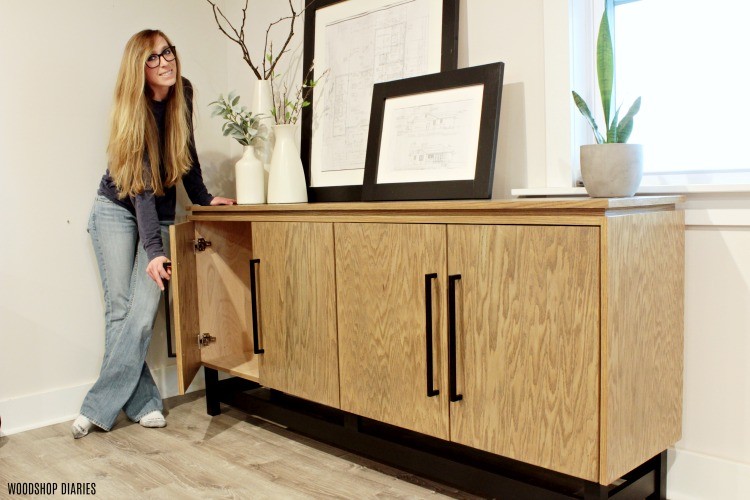 Speaking of hidden storage…you could also build this modern sideboard. No one ever said a console table had to be a traditional "table". This would look amazing in an entryway, kids room, or dining room!
modern pottery barn dupe
This stunning entry table features clean, modern lines. It's a dupe of the super popular Pottery Barn Folsom Console Table. You can build this table yourself for less than $200 (that's over 70% off of the retail price).
Modern waterfall table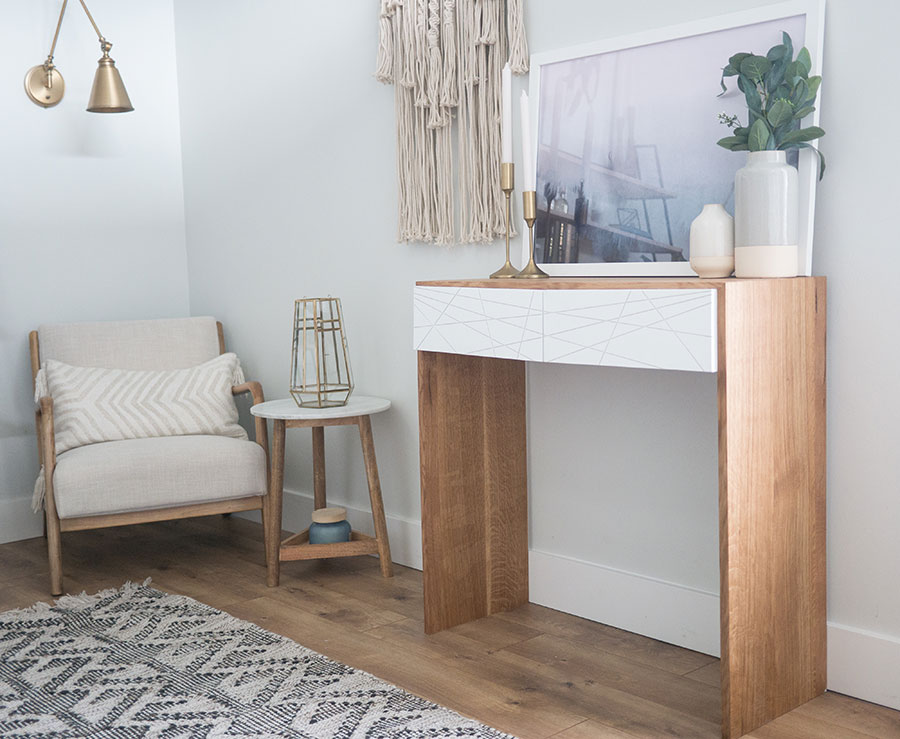 Speaking of design with clean lines, here's another modern console table plan for you. This beautiful table features waterfall edges and two large drawers for storage.
The Super Narrow Console
If you're looking for lightweight and super narrow, this is the plan for you. It's only 7.25″ deep so it can fit in tighter entryways or other spaces. The small square dowels used for the legs give it a modern, metal look for less. This plan is very beginner friendly and be built in less than 2 hours.
Farmhouse Console Table Plans
Double X console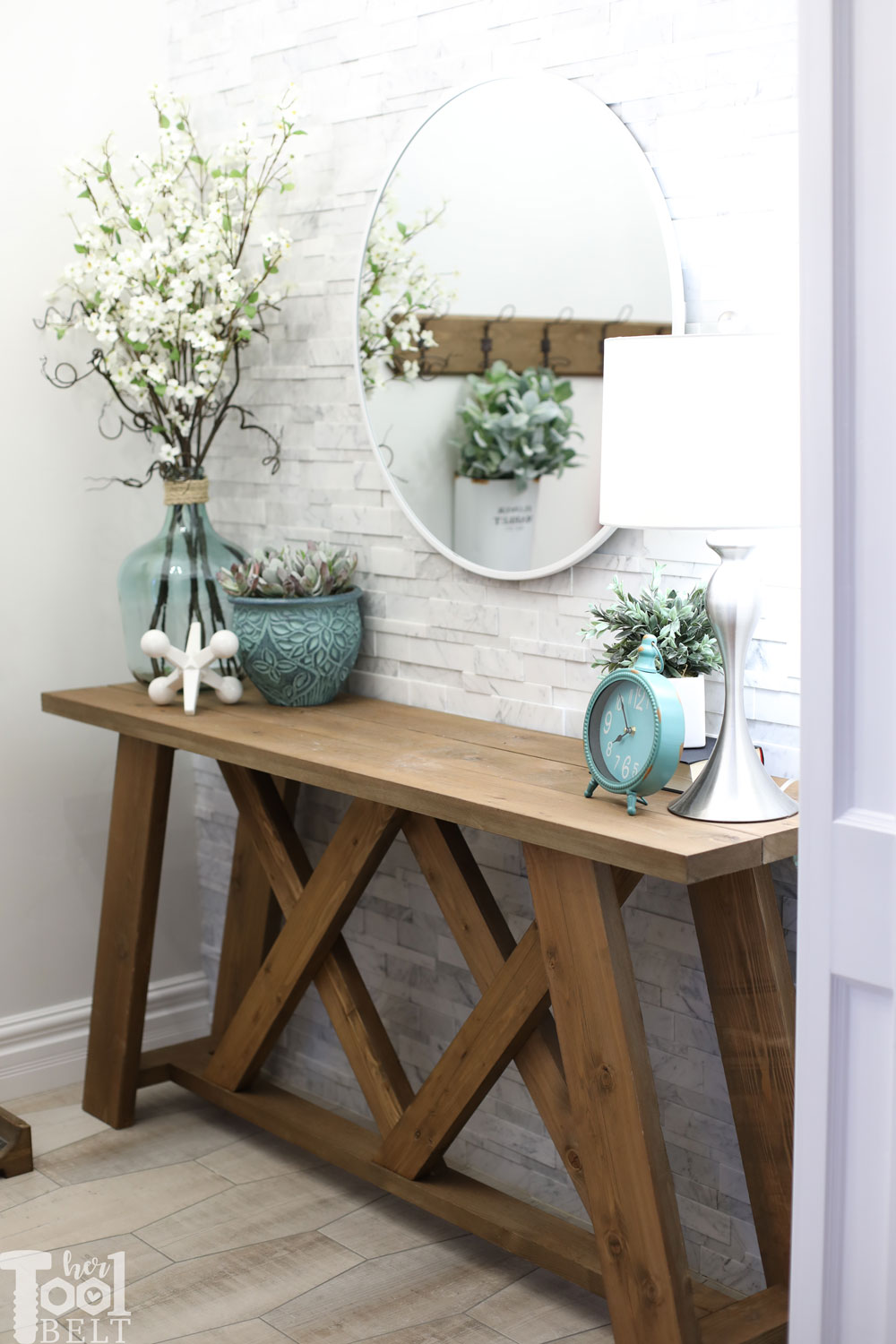 Opposite of light and narrow is sturdy and substainial. This DIY console is made from 2x lumber, giving it a more substanial look than a lot of the other designs on this list.
THE DOUBLE V CONSOLE TABLE
If you like the look of metal and wood, these console table plans might be for you. It's built entirely out of wood, but the black-painted base gives you a metal look.
Farmhouse console
Love the farmhouse style, but don't want to add another "x" design to your space? This beginner-friendly farmhouse console table plan might be the right fit for you.
X Base Console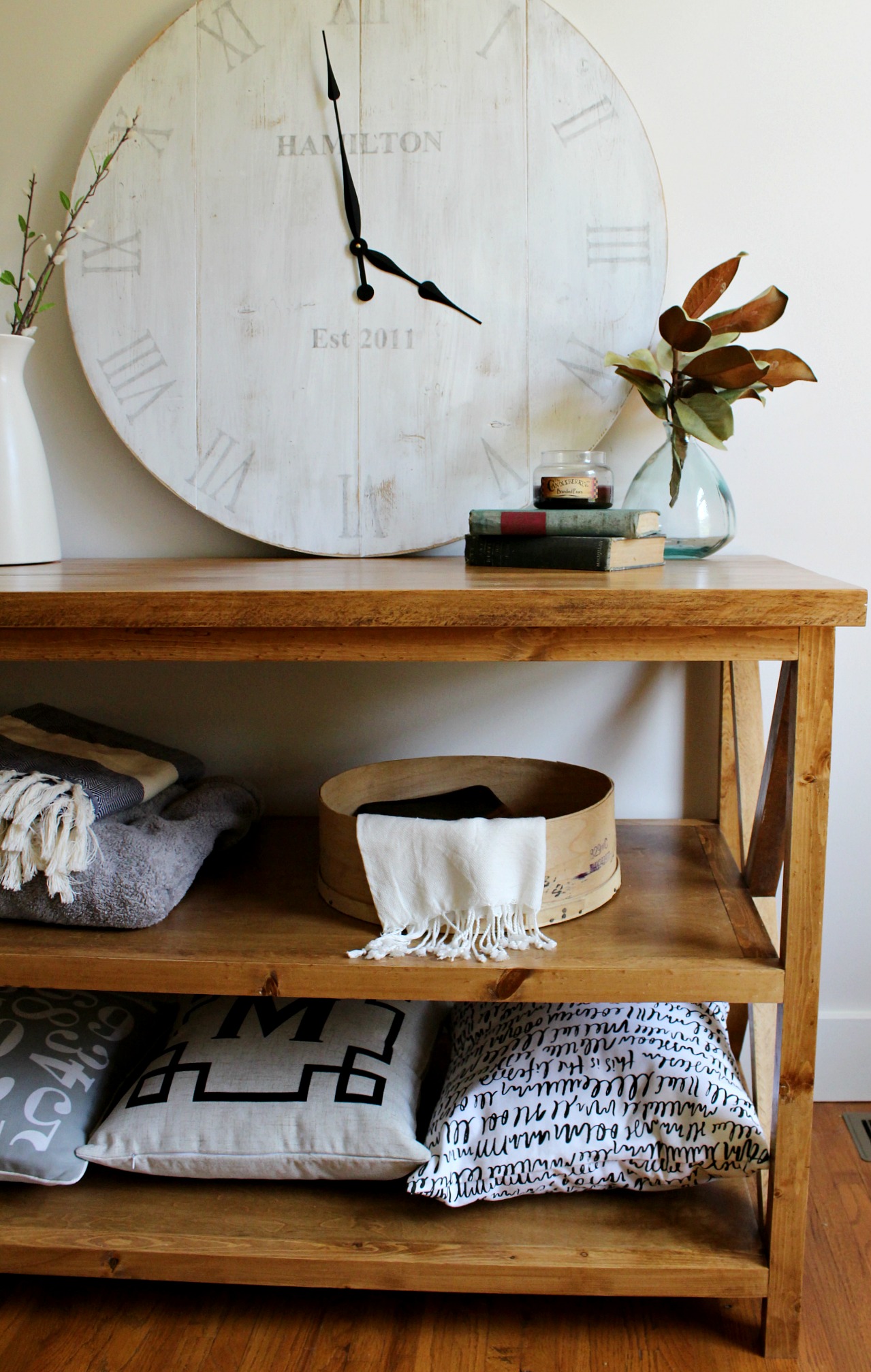 Or maybe you do love the classic "x" design for your farmhouse home. You'll love these plans from Woodshop Diaries. Complete with a middle shelf to make it even more practical for storage.
small console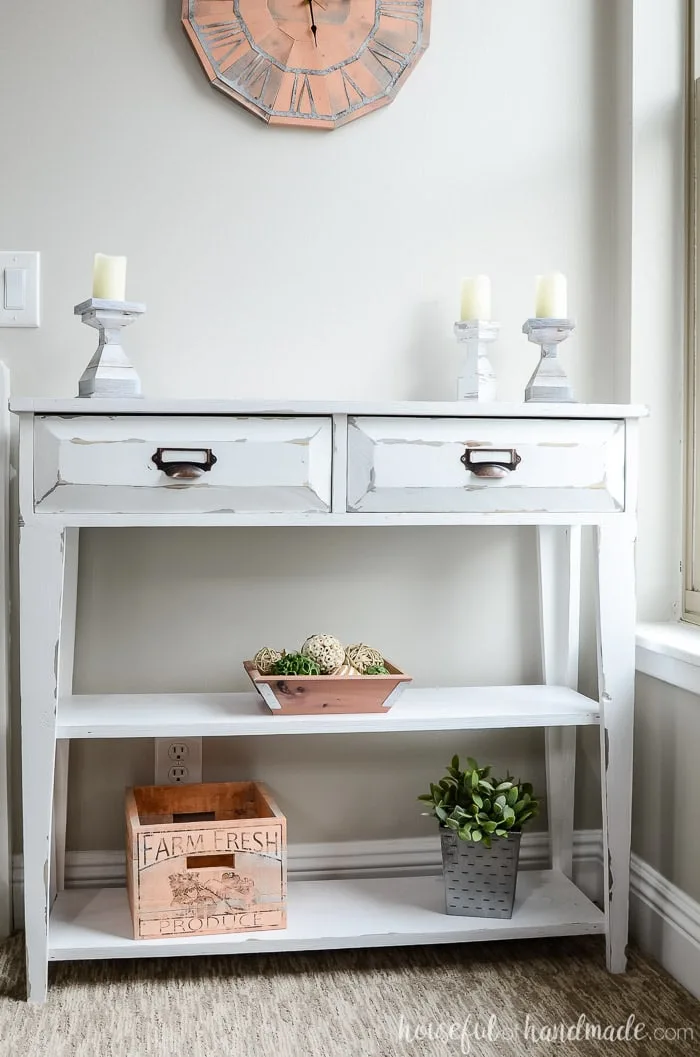 Between the detail on the drawers and the tapered legs, you'll definitely get questions on whether this console table was a DIY. But yes it is! Check out the plans.
Modern farmhouse take 2
Ashley does it again with the modern farmhouse console designs!
Converted cube storage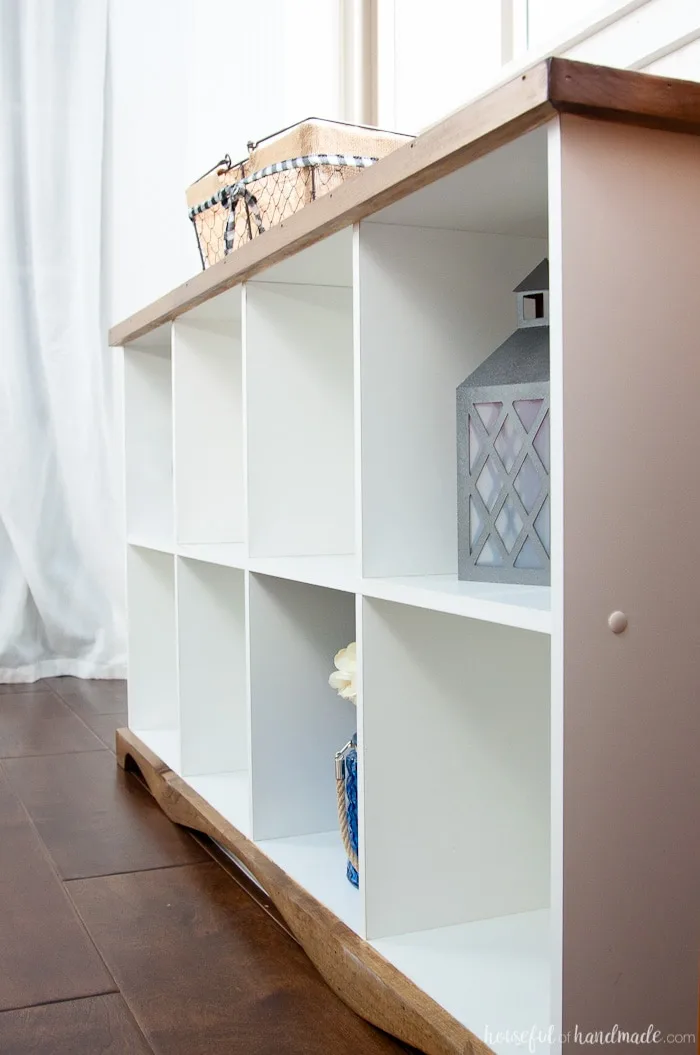 Have an old cube storage bookcase that you want to repurpose? A simple simple additions can give your old cube storage a new life. See how it's done.
More DIY Console Table Designs
Industrial Cart
Furniture on wheels? If you want a console table that can easily move from one spot to another and has an industrial feel, you'll love these plans by Shanty-2-Chic.
Hairpin leg console
If you're looking for a super beginner-friendly project that you can knock out in less than a few hours, this hairpin leg console table is for you. It also features live edge wood to add more texture and warmth to your space.
Old oak console
This DIY console table plan is like no other that you've seen. It features a unique design, but don't let that scare you away. Detailed printable plans are available for this beauty!
industrial meets modern
When industrial meets modern, you get this awesome console build from Handmade Haven. Complete with real metal accents and clean lines. You could also leave the metal pieces off for a more modern design.
There you have it! 18 DIY console table plans that you can tackle this weekend. Well, you could tackle one, maybe two, this weekend.
Whether you're looking for a sofa table, an entry table, or a console table for another area of your home, I hope you've found a DIY plan that you love!
If you've enjoyed this post, you might also enjoy our roundup of the best DIY TV stand plans.
PIN THIS IMAGE FOR LATER: