With more people working from home than ever before, it's time to build a desk. The couch and bed seem nice for a moment, but then we realize that we just aren't as productive as we need to be.
Having a dedicated workspace can help a great deal, so let's find you a DIY desk that you can make as quickly as possible.
We'll break things down into two categories: plywood desk plans and non-plywood desks.
DIY Plywood Desks
Let's start with plywood desks. Plywood is a great material to build a desk out of because you can create a large, solid workspace without needing to put multiple boards together. This can result in a smoother table top and a great price.
Sure, pine might be less expensive to build with than a sheet of plywood, but if you're going for a solid oak look, plywood can save you a lot of money. Speaking of oak desks, let's dive into the best DIY plywood desk plans:
Mid-Century Desk with Drawers and Hidden Cord Storage
One thing you might not notice at first glance is that this desk actually includes a filing cabinet drawer as well. The two "drawers" on the right side are actually just one big drawer – big enough to fit a file in! Not only does it come with lots of storage, but this plywood desk has hidden cord storage as well. No one wants a million cords cluttering their desk! Get the plans here.
DIY Chippendale Desk
If you're looking for a fun design, this might be the desk for you! This DIY Chippendale desk looks great from all angles and offers ample space on the desk top.
DIY A-Frame Desk
Stylish and practical. This a-frame desk is a great option because it doesn't take up too much space, but it still offers some open and hidden storage.
Filing Cabinet Desk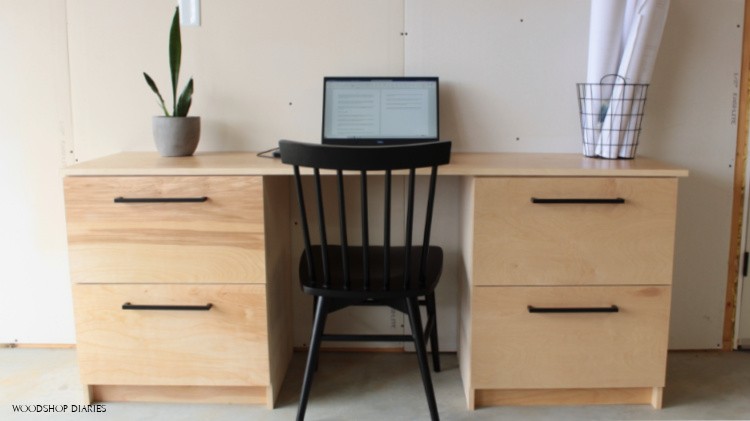 The cool thing about this DIY filing cabinet desk is that it's modular. You can customize it with more or less drawers, open storage, closed storage, or a combination. There are so many ways to make it completely custom to what you're looking for.
Sleek and Modern Desk
The clean, modern lines of this desk are perfect for anyone going for a minimalist design. This desk boasts a large workspace so you can spread out all your papers.
U Shaped Desk
Speaking of a large workspace, this U-shaped desk is an awesome option if you have a nook in your home you've been trying to figure out what to do with.
Computer Desk with Plenty of Storage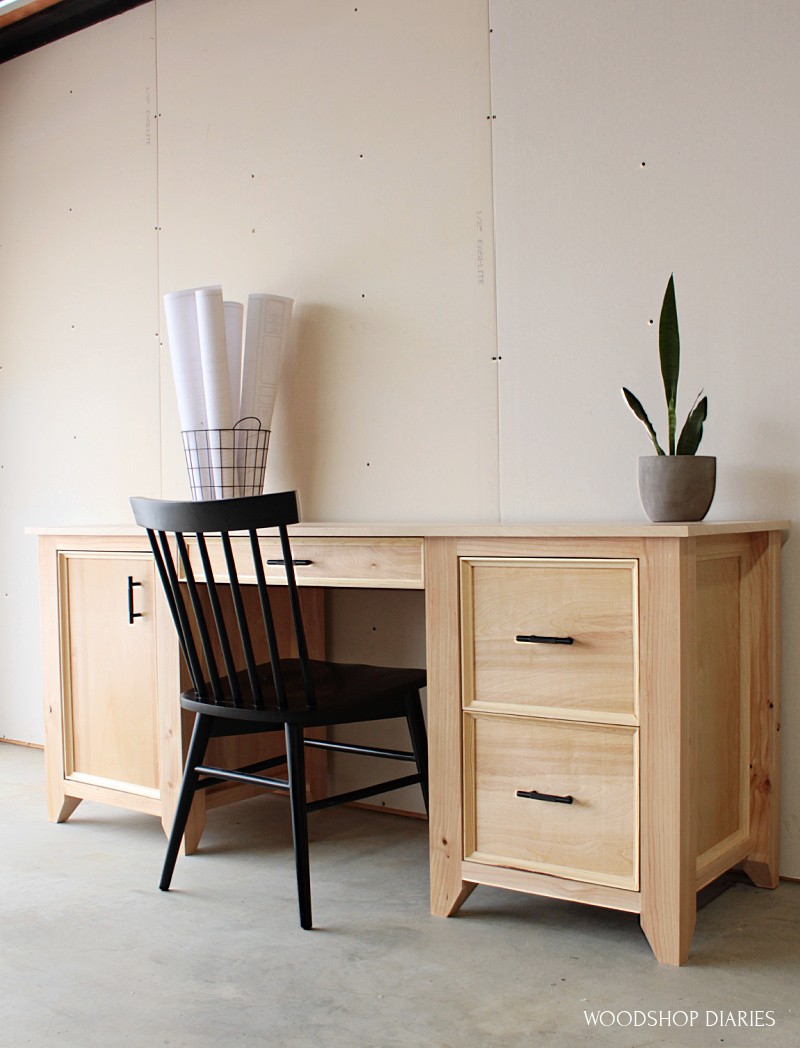 This computer desk has tons of hidden storage between its 3 drawers and one cabinet with a few shelves. The tapered legs and moulding on the drawers and door add fun design details.
Extra Long Desk
If you're anything like me, the more room you have to spread out at your desk, the better. This DIY desk is extra long so that you don't run out of desk space. It has three drawers that are perfect for storing all the office supplies like pens and post-its.
Simple Desk with Pipe Legs
If you're looking for a desk that isn't made from just wood, check out this desk from the Sawdust Sisters. They made the legs using pipes to add some different materials into the build. No welding required!
$40 Desk Plans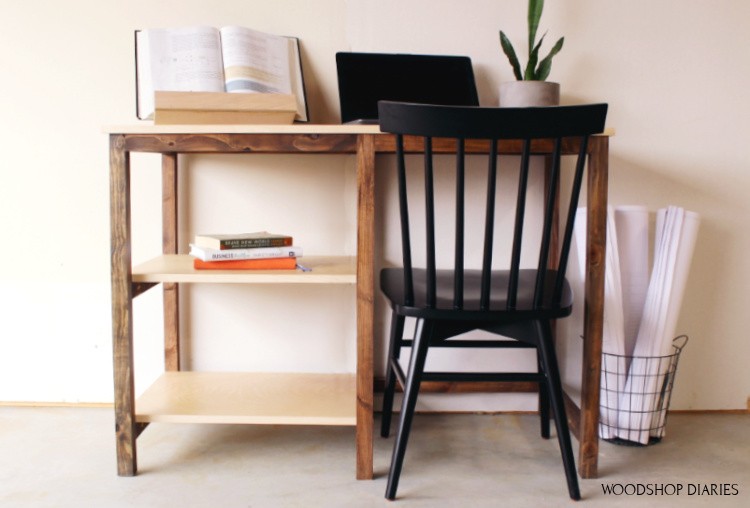 Need a desk but don't want to spend too much? Build this desk for $40! It's a great beginner-friendly project and offers some additional storage with the large shelves.
IKEA Desk Hack with Filing Cabinets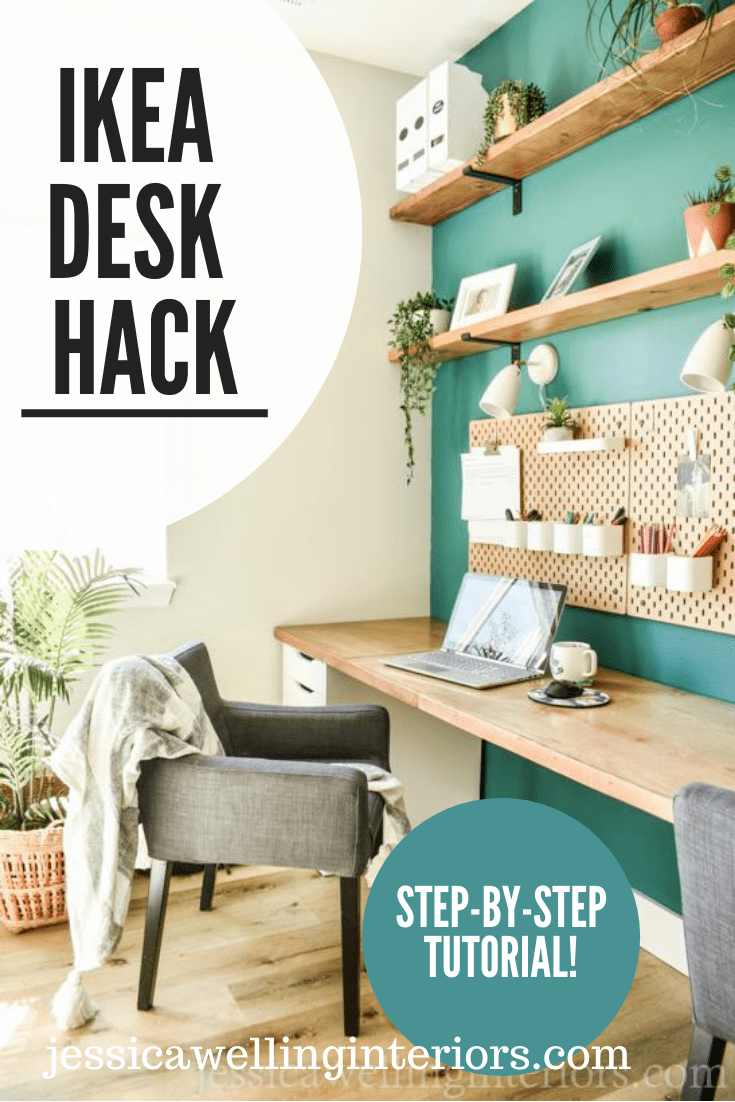 Don't want to build a desk completely from scratch? Grab some filing cabinets from IKEA and a sheet of plywood to make this cool IKEA hacked desk.
L Shaped Desk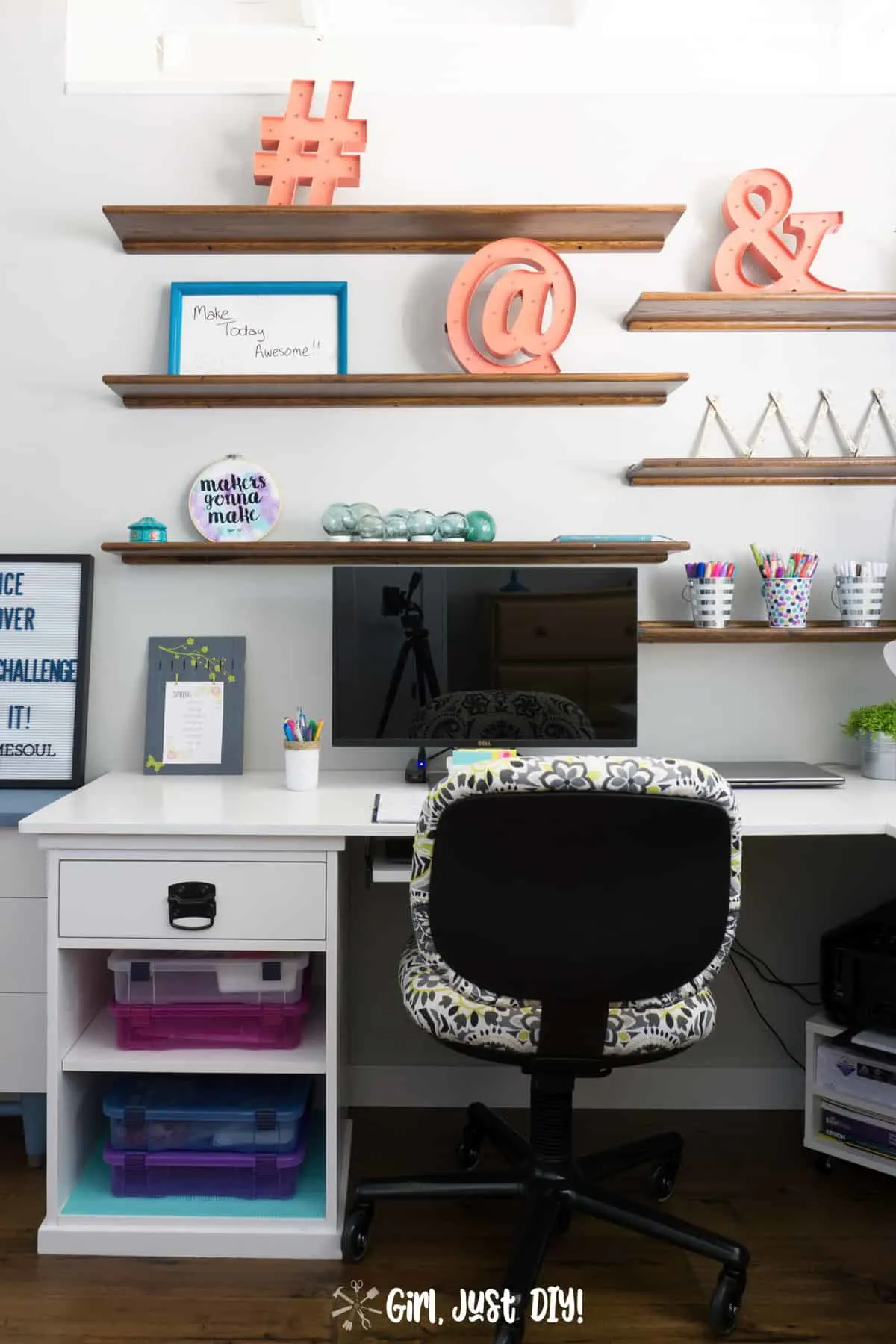 L-shaped desks are always a popular design because they work well in a corner of a room and give you plenty of space. Check out this DIY L-desk from Girl Just DIY.
Modern Farmhouse Style Desk
Fan of the modern farmhouse style? Check out this desk build from Anika's DIY Life. Not only do you have a couple of shelves, but this desk also has a few drawers to store all your favorite pens and office supplies.
Floating Desk Plans
If you're looking for something built-in, check out this beautiful floating desk. The metal brackets that hold the desk top up are functional and also a nice design detail. The gold finish adds a luxurious feel.
Fun Patchwork Desk
The final desk is our round-up of DIY plywood desks is this cool patchwork design from Lazy Guy DIY. Finished with hairpin legs for a mid-century modern look.
DIY desk plans that don't use plywood
DIY Modern Desk Plans
This modern desk has geometric legs that give it a clean, yet visually interesting design. The only saw you need to make it is a miter saw because it doesn't use any plywood! Finish with a two-tone look for a more unique design or stain it black for an ultra modern look.
Small Writing Desk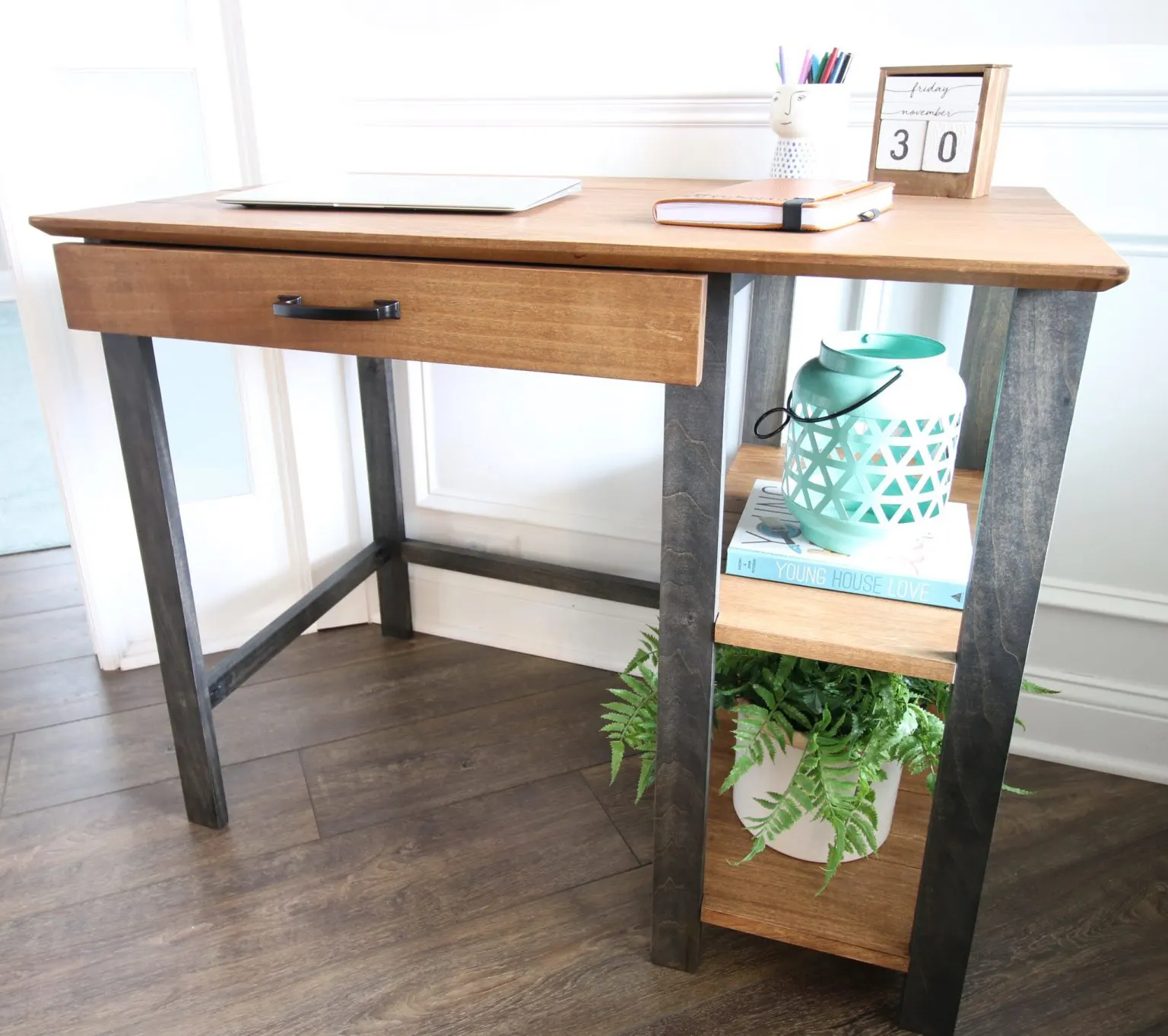 If you don't have a lot of space for a desk, this small writing desk might be for you! Great for small spaces or for a kids' room.
Simple Desk with Hairpin Legs
If you're looking for speed, this desk might be a great option for you! This design looks amazing and clean, but doesn't take long to assemble. In an afternoon you can go from deskless to stylish desk!
DIY Farmhouse Desk
The drawer in this desk is actually fake, but you can grab the printable plans from Handmade Haven for instructions on how to make it into a real drawer. This desk is perfect for anyone looking for the farmhouse style!
IKEA Desk Hack #2
This beautiful desk is an IKEA hack using two dressers! How cool is that? If you're intimidated by drawers but want your desk to have some, this is the perfect solution for you. You don't have to deal with trying to get the drawer slides installed properly because IKEA did it for you.
If you're looking for a classic farmhouse style desk, look no further than this one made by Handmade Haven.
DIY Desk in a Closet
Don't have enough room for a dedicated office? Transform a closet into a nice office nook!
Did you find a desk that fits your needs? Another idea is to build a standing desk that can be converted into an entryway table if you find yourself no longer needing a dedicated workspace. A piece of 1″ wood and some hairpin legs will work wonders for that!